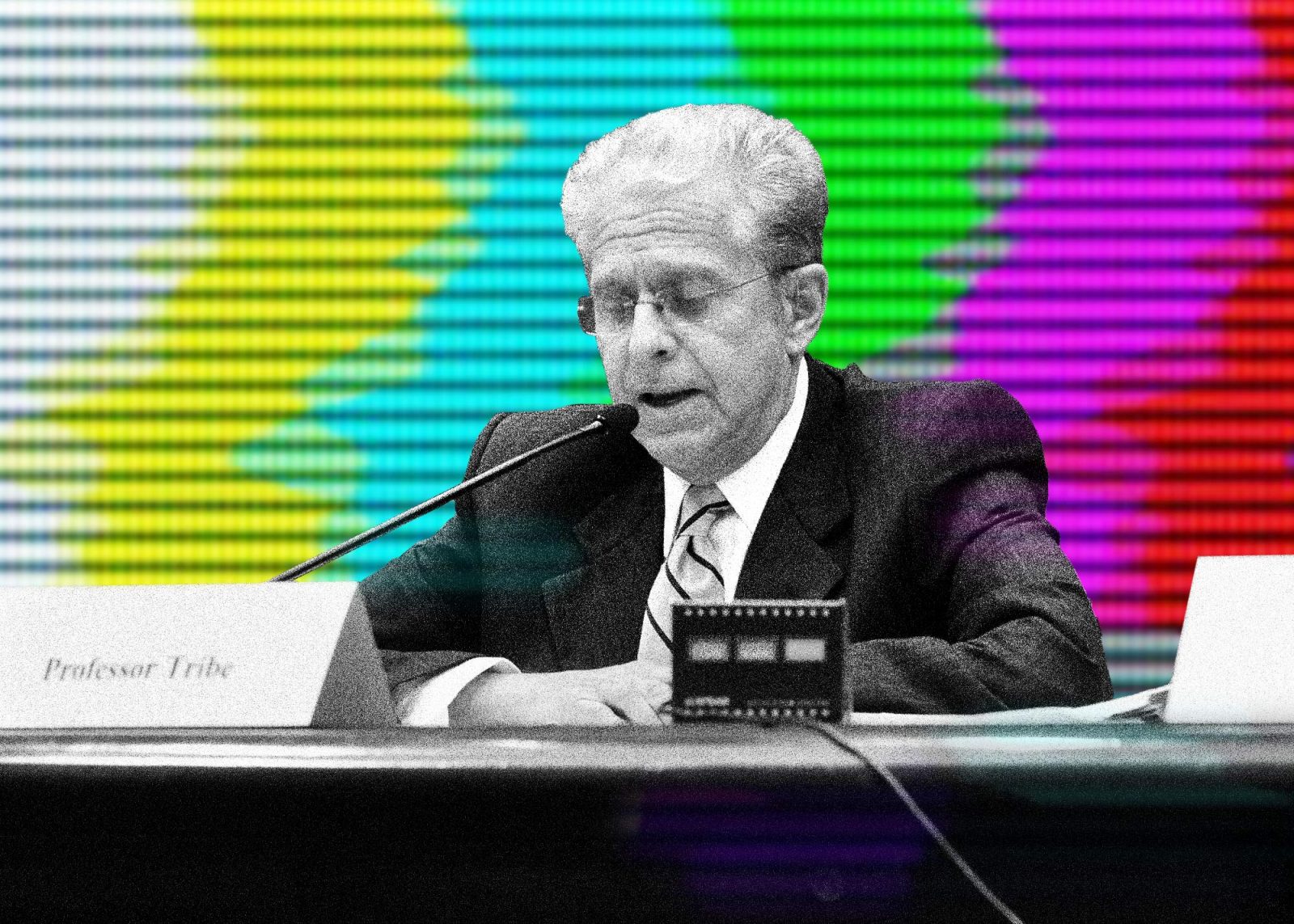 Photo Illustration: The Daring. Photo: Eric Brown
This essay is part of our four-part series entitled "Bullshit," after Attorney General Bill Barr's response to the January 6th commission about what he actually thought of Trump's election fraud claims. Read the first two essays, "Gaslighting the Vice President" and "Bully, Inc." Watch the full interview with Laurence Tribe and Nancy Gertner on historic Jan. 6 hearing testimony and the future of the Supreme Court here.
The lame duck and the Big Lie
A commander-in-chief who'd lost his bid to a second term, a lame duck waddling to the finish line between election day, November 3, 2020, and the joint session of Congress's certification of state electors on January 6, 2021, could have done serious damage to a republic knocked down, sucker punched, blindsided by unexpected blows caused by a conspiracy to defraud the American electorate.
Beamed into the Boston Public Library via video link, the evening broadcast featured Harvard emeritus Professor of Constitutional Law, Laurence Tribe, and Senior Lecturer at Harvard Law School, Professor of Practice and former federal judge, Nancy Gertner. In addition to commenting on recent Supreme Court decisions, the two touched upon key components of a hearing still threatened by the former president's warning that he might run again.
Even as Trump continues to stoke the Big Lie at a volume that indicates he isn't yet tired of going to the mat in defense of fraud, the Trump-o-sphere crackles with the belief that the 2020 elections were a massive swindle. To win back what was never meant to be yanked from an establishment bent on preserving the status quo ante, Democrats would go to any length, say his followers, even stealing an election that the former president had signaled would be stolen.
White House aide Cassidy Hutchinson, former assistant to Trump's Chief of Staff Mark Meadows, had just completed her description of events surrounding the insurrection earlier in the afternoon before The Select Committee to Investigate the January 6th Attack on the U.S. Capitol. As Judge Gertner and Professor Tribe joined TV and radio host Jim Braude of WGBH Greater Boston to discuss the day's proceedings, each providing what few pundits can in this age of media distraction — probing familiarity with a Constitution that should be as familiar to everyday Americans as the Communist Manifesto once was to residents of Stalingrad — the Trumpian mythology chugs along.
Both agreed that Hutchinson's June 28th testimony provided critical information for any future case against Trump. The witness, they said, had described Trump's position in the conspiracy, pointing to his intention or knowledge of wrongdoing, and intimating the distinct possibility of indictment, trial, and even conviction down the road. Although Trump may ultimately be acquitted before a jury of his peers, some of whom harbor a secret messianic loyalty to the former president, he should nevertheless, say Tribe and Gertner, be tried.
Good faith interpreters of the law
The list of students who've attended Tribe's lectures includes a who's who of America's most powerful politicians and jurists: former President Barack Obama, Supreme Court Chief Justice John Roberts, Supreme Court Associate Justice Elena Kagan, US Representative and member of the January 6th commission Jamie Raskin, Senator Ted Cruz, and, perhaps most salient to the question of future criminal proceedings against Trump, Attorney General Merrick Garland. As head of the Justice Department, Garland must now decide whether or not to open a case against the 45th president.
When Tribe, 80, speaks, the legal and political establishment, even those on opposite ends of the ideological spectrum, take notice. Many borrow from his legal toolbox to defend one constitutional right or another. The mere mention of his name in conjunction with a legal claim will often lend credibility to an argument. His textbook American Constitutional Law is used in law schools across the country.
Tribe's record extends even to those he presumably would most like to disassociate from. In the recent Dobbs v. Jackson Women's Health Organization opinion that overturned fifty years of precedent for a federally-mandated right to access abortion, conservative Associate Supreme Court Justice Samuel Alito asserted in his majority opinion that even the liberal Tribe had some reservations about Roe back in '73.
Tribe's response was basically — "and…so what?"
When Trump's legal advisor John Eastman claimed that Tribe was in support of aspects of his theory to overturn the election, Tribe rejected Eastman's theories as outlandish. He even lent his considerable scholarly weight in a formal complaint as a member of the California Bar. He wrote on Twitter on October 21, 2021, "I'm proud to be part of the group filing a complaint with the State's bar association against John Eastman, the unprincipled lawyer who worked with then-President Trump to pressure then-VP Pence to overturn the election."
Judge Gertner, 76, a women's rights and civil liberties expert who befriended Hillary Clinton some half a century ago while attending Yale Law School together, provided insight into the evidentiary and procedural grounds for trying the former president. Whether Tribe and Gertner are to be viewed as advocates for a liberal agenda rather than fair-minded interpreters of a Constitution that should be read to exclude fascist creep depends on which side of the fence you reside.
The vast majority of Republicans — though statistics are changing day by day — still believe that the 2020 elections were rigged and that the commission's investigation, like both impeachments, are politically-motivated hatchet jobs. For some, political intrigue that ends in a mob storming the Capitol is just the price paid for defending liberty. To give up on a Q-fueled conspiracy mindset that questions whether Biden is not actually being played by his doppelganger is to concede to the movement's real — and fictitious — enemies. That the enemy is now the Constitution — and that the inelegant term ratfucking* is just another common mode of screwing with snowflakes — is perhaps the bigger problem.
*Ratfucking is American slang for political sabotage, specifically regarding elections. Bob Woodward and Carl Bernstein in All the President's Men (1974), a book based on investigative reporting into the Watergate scandal, brought this term to public attention. At the time, President Nixon's team was clandestinely attempting to bend the rules by attacking Democratic rivals using dirty tricks and crafty maneuvers. Roger Stone, a close confidante of Trump's, pardoned by the former president on December 23, 2020, only days before the insurrection, is often associated with this term. As far back as work on behalf of the 1972 Nixon campaign where he pretended to be a Young Socialist, sent money to a rival candidate of Nixon's, and later forwarded the receipt to the Manchester Union Leader, Stone's name has been eponymous, says Mother Jones, with "being a 'ratfucker' — a practitioner of dark arts avoided by most mainstream politicians and consultants."
For legal experts, oversubtle and intellectually dishonest sophistry invented by the likes of Trump's legal advisor Eastman to claim that the former Vice President had unilateral power to discount legitimate electors is sure to be exposed by good faith interpreters of the law like Tribe and Gertner. Just as Biden appointed T & G to his Presidential Commission on the Supreme Court to investigate the prospect of reforming the third branch of government, possibly even expanding the number of justices in a throwback to FDR's court-packing proposals during the Great Depression, Attorney General Garland will likely take account of a variety of constitutional opinions on executive authority and election law, including the views of his former teacher.
Garland is, of course, grappling with subject matter which Tribe has written about over a nearly six-decade career. As one of the country's most cited constitutional law scholars, along with the University of Chicago's Judge Richard Posner and NYU's Cass Sunstein, Tribe's commentary on the January 6th commission is presumably front-and-center on his former student's radar.
Planning, aiding, and abetting the march
Informed by secret service agents that supporters with knives, brass knuckles, Glocks, and AK-47s would not be permitted to enter a restricted area at the Ellipse, the 50-acre oval-shaped park on the south side of the fence from the White House where mags (short for magnetometers) were set up as a security precaution in advance of Trump's January 6th speech, Hutchinson claimed that the former president threw the equivalent of an executive hissy fit.
The function of mags is to detect nasty weapons that can inflict severe damage. But magnetometers were a bridge too far for a lame duck who needed to prove the extent of his support from a public exceedingly restive from the long slog of pandemic protocols. "I don't fucking care that they have weapons," Trump said. "They're not here to hurt me. Take the fucking mags away. Let them in. Let my people in. They can march to the Capitol after the rally's over. They can march to the Ellipse. Take those fucking mags away, then they can march to the Capitol."
Even if some of her statements still need to be corroborated, eventually ending up as hearsay on the evidentiary chopping block, perhaps more than any other previous witness Hutchinson has connected the dots of conspiracy all the way back to the dragon's head. If what she is saying is true and Trump encouraged both unarmed (and armed!) supporters to head down to the Capitol, the ex-president is presumably in some serious doody.
When told he couldn't accompany his followers, Trump became colicky. He allegedly tried to take hold of the steering wheel of his motorcade, "The Beast." When a secret service agent intercepted his wrist as he lunged from the back seat, Hutchinson said he went to grab the agent's clavicle. If Hutchinson's testimony is to be confirmed, Trump's effort to accompany followers to interrupt a constitutionally mandated transfer of presidential power is pretty damning evidence of Trump's dereliction of duty. For the 13,231,000 viewers across all major networks, including ABC, CBS, NBC, CNN, and MSNBC, who watched the hearings that day, there was certainly a sense that the wheels of justice were finally beginning to turn.
As Hutchinson's testimony moves us ever closer to describing the criminal contours of presidential sedition, the commentary of constitutional scholars like Tribe and Gertner becomes ever more essential. A public distracted by high gas prices, the war in Ukraine, and a job and housing market in a tizzy of inflationary instability could still benefit from the sagacious and prudent advice of constitutional experts. Those experts in breaking down jargony legal stuff into comprehensible everyday language are few in number. And why not? We turn to priests, ministers, rabbis, and imams to explain esoteric biblical and quranic mysteries of our times. So when our republic is in the throes of a heretical backlash, who else better to answer fundamental questions about legal order if not veteran constitutional scholars with the scars to prove it?
Evidence points to conspiracy to defraud the American public and foment a seditious coup — beyond a reasonable doubt
Host Jim Broad started the conversation by asking Tribe for a comment on something Tribe had tweeted just before Hutchinson's testimony, where he admonished commentators not to expect "this courageous young woman to deliver the moon. Raising the bar too high will lead to inevitable disappointment at a time when people of good will need hope grounded in reality, not despair grounded in fantasy." Broad countered that far from being underwhelmed, he "was never disappointed in 2+ hours." He then asked Tribe if he'd changed his position after watching Hutchinson's testimony.
"No, I was quite stunned. I was staggered," Tribe conceded. "I was thinking — what is it like to be shocked but not surprised? That's the feeling I had. I mean, for the president to grab at the throat of the head of his secret service detail in order to accompany an armed mob to the Capitol, armed because he had insisted that the magnetometers be removed. Any doubt that he was involved in inciting this insurrection, aiding and abetting it, as well as being quite deeply involved in the whole plot from the beginning, is now diminished to the point that it's not even a reasonable doubt."
Turning to Professor Gertner, Broad asked the former U.S. District Court Judge for Massachusetts if she thought Trump's involvement was criminal. Trump, he said, "knew to expect violence. He knew they were armed. His lead counsel talked about immense kinds of illegality. Does this establish beyond a reasonable doubt the criminality of the president if Hutchinson's testimony is to be believed?"
While cautioning against hearsay evidence, Judge Gertner suggested that we hold back certain conclusions until claims can be verified following standard criminal procedure. Her conviction that everyone deserves procedural justice did not at the same time undercut her overarching opinion that, based on the evidence so far accumulated, Trump — as big cheese, head honcho, and numero uno all wrapped into one — conspired to defraud the American public and foment a seditious coup.
"Yes, for sure, Hutchinson's testimony has to be supported. 'I heard someone say X' needs to be supported. But more important than that, not only in terms of the insurrection, the committee is doing something you see prosecutors do in drug cases, and you see them doing it in the January 6th prosecutions."
"You start at the bottom," Gertner said, "and then you go up. If it's the case that [Jeffrey] Clark [from the Department of Justice], Eastman, Giuliani, and now Meadows are all part of the conspiracy to obstruct not only January 6th [certification] but to undermine the election, I don't see how they can be conspirators without Trump also being a conspirator because he was involved in what they were doing."
By the early eighties, no mob family was more synonymous with members being indicted for violating the Racketeer Influenced and Corrupt Organizations (RICO) act of 1970 than the Gambino crime family. Members of the organization from the don on down, under RICO, were implicated both as individuals and in the collective sense for having participated in a group conspiracy. The Feds have since used RICO to go after biker gangs like the Hells Angels, Outlaws, and Bandidos. Even international criminal outfits that have partnered with U.S. organized crime, including the Russian mafia, Japanese Yakuza, and Triads, have had their members indicted as part of organizational plots under RICO.
If it can be shown that Trump conspired to reach out to right-wing militias like the Oath Keepers, the Three Percenters, and Proud Boys to maximize a very violent presence at the Capitol on the 6th, then what once seemed like far-fetched parallels to banana republic coups and organized criminal enterprises don't seem so far fetched anymore. In plotting to fool followers by ginning up the Stop the Steal movement, Trump turned to talking heads like Steve Bannon, his former chief of staff. Three days before the election, Bannon spoke to a group of Republicans about Trump's plans. In an audio recording obtained by Mother Jones, he said, "What Trump's gonna do is just declare victory. Right? He's gonna declare victory. But that doesn't mean he's a winner."
Trump crossed his anti-constitutional Rubicon
Projecting what he wanted but could not have — a triumph of will in an era of pandemic misinformation — Trump bragged, cajoled, and shrieked, cooking up his idiosyncratic form of grievance politics to a shrill crescendo. For over an hour at the Ellipse, Trump promoted the Big Lie, informing his followers that the Democrats were plotting against him to strip him of his rightful victory. It was therefore critical that his followers convince Vice President Pence to do the right thing. Trump's call to decertify the results of an electoral college whose slate of electors, he claimed, represented false claims of victory and his effort to invalidate results that dozens of state and federal court actions had already confirmed to be legitimate hinged on the last day on one man alone: Pence.
Former National Security Advisor John Bolton, perhaps the most prominent neo-conservative to serve under Trump, recently received flak for claiming to be an expert in orchestrating coups. Bolton was wrong to suggest that because Trump's attempt to interrupt the January 6th certification was unsuccessful, since insufficiently planned, he shouldn't be held legally accountable. Even if piss poor in execution, to ignore, as Bolton has, Trump's obsessive effort to seize power through force of arms — in this case through a roving partisan mob bent on gallowing Pence — is to remain blind to what were once fundamental hallmarks of (organized) coups.
As with his whitewashing of the Iraq War as one of George W. Bush's most hawkish appointees, Bolton, a former Undersecretary of State and Ambassador to the United Nations, has always been, with his walrus-mustachioed bravado and esoteric Straussianism, a skunk at the garden party. In sifting through lies, half-truths, and insinuations, we must take account of those witnesses to Trump's treachery who've had no misgivings in the past deceiving the American public. Bolton's effort to depose Saddam Hussein and democratize the Middle East based on false claims that Iraq possessed nuclear capabilities should make us scratch our wonky heads.
Trump's willingness to accompany a mob of supporters that he knew were armed as they strode down Pennsylvania Avenue toward that teetering shrine of democracy to demonstrate that, against all judicial opinions to the contrary, he was indeed the rightful winner of the 2020 elections, exhibits recognition on Trump's part that he was more than happy to bust up a solemn affair to retain power. Add to the mix the fact that secret service agents had warned him that many of his supporters refused to check through the metal detectors because they were packing, it's hardly a stretch to imagine Trump's sinister state of mind at the time.
Hutchinson made it clear that what Trump was doing in the few critical hours after the Capitol siege when he sat on his traitorous rump in the oval dining room with images from the riot on Fox crawling across a television screen had been a personal betrayal. He did absolutely nothing in the way of quelling the violence while Capitol police were bludgeoned. He had crossed his anti-constitutional Rubicon. He had shouted fire in a crowded movie theater —and was now waiting to see if the whole bloody experiment in democratic self-governance would go up in flames.
Some of the more salacious accounts, including ketchup dripping down the wall of the presidential dining room as a result of a fit of rage by Trump in the days leading up to January 6th or the former president's lunging at his secret service agent after being informed that, no, his security force wouldn't be driving in the direction of the Capitol but instead returning to the West Wing, strikes an incriminating note.
Hutchinson witnessed a cavalier president who didn't mind playing Russian roulette with everyone from poll workers to secretaries of state to even his own vice president. When she returned to the West Wing from the Ellipse where Trump had given his speech only a short time earlier encouraging Pence to show strength in the face of the Democrats' effort to commit a-once-in-a-lifetime fraud on the American electorate, she also happened to be privy to a pretty damning conversation.
A complete dereliction of duty
Int. Oval Dining Room. Day.
Hutchinson overhears White House Counsel Pat Cipollone and her boss, Meadows, discussing Trump's position as news accounts announced that rioters were getting increasingly agitated, including calling for the VP's head, breaching various fences that had been erected to protect the proceedings. Cipollone, Trump's pricklish — if by the books — White House counsel, belonged to a faction that included Trump attorney Eric Hirschmann, Ivanka, and Jared.
All refused to entertain the prospect that the 2020 election was rigged. Ever since former Attorney General William Barr's statement of December 1st to the Associated Press where the ex-AG asserted that the Department of Justice had not found any evidence of voter fraud that could have changed the outcome of the election, the normies — not the wackadoodles — had pushed back against conspiratorial hokum.
Cipollone remained adamantly opposed to inroads made by legal advisors, including Eastman, Giuliani, Clark, and Sidney Powell. At every twist and turn in the seditious road, while these horsemen of the electoral apocalypse were whispering sweet-nothings to a vainglorious commander-in-chief not used to being a loser, Cipollone and others were trying hard to contain the crackpots. Cipollone turned to Meadows and said —"Mark, we need to do something more. They're literally calling for the VP to be f-ing hung…"
Meadows, who would subsequently request a pardon from Trump along with others, including Giuliani, Eastman, Republican representatives Mo Brooks of Alabama, Matt Gaetz of Florida, Louie Gohmert of Texas, Andy Biggs of Arizona, Pennsylvania's Scott Perry, and Georgia's Marjorie Taylor Greene, responded: "You heard it, Pat, [the president] thinks Mike deserved it, he doesn't think he's done anything wrong."
That's what ice in the veins looks like.
Broad: "Nancy Gertner, before we went on the air you said you don't like 'what does it mean?' questions, so let me ask you a 'what does it mean?' question. What does it mean that Ms. Hutchinson said today that Giuliani and Mark Meadows were interested in pardons relative to January 6th? What inference should we draw from that?"
Gertner: "Well, either they knew they committed a crime for which the only way out was a pardon or 'I knew I might be prosecuted for a crime.' I think in context, it means 'I knew I committed a crime' because there were so many lawyers in that room saying that what they were doing was wrong that I think the fair inference is that they knew they had committed a crime."
"You know it's a stunning sort of story here that Trump knows he loses the election, knows that the false elector plot was wrong, knows that armed people are going to go to the Capitol, and, in fact, that he shouldn't go because it would be illegal to do what he's contemplating. Knows all that and had the pardon power to basically exonerate the people who were co-conspirators. In one sense, I feel lucky that he didn't pardon them. It's extraordinary. I feel relieved that he didn't pardon them. When you think about the impunity that they felt because they felt that Trump could pardon them, that's really the definition of a totalitarian state. 'I can do whatever is necessary to set aside this election because the big guy's gonna pardon me.'"
As more evidence has come to light on the 187 minutes during the riot when the former president not only did nothing but was seemingly relishing what was going on, prosecutors might also consider the viability of a homicide charge. Trump's dereliction of duty, standing by while killings occurred that he could have easily prevented in his formal role as president, would fit the bill. Even if there was no intent to cause harm, homicide requires a volitional act or omission — and if the hearings are to have any bearing on the truth, POTUS not only did jack when it mattered, but was a participant in its omission.
The House chambers were ransacked — and a gallows erected. As far as his loyal VP was concerned, the mob could do with him what they wished.
Peaceful transition of power, what?
Broad: "Does the fact that [the Department of Justice lawyer Jeffrey] Clark's home — this was on the same day last week — was searched, Eastman's phone seized — this is for you, Larry — does this give you some indication where your former student the Attorney General is going? Because there's been a lot of criticism, including from you, about his apparent inactivity on a grand jury front."
Tribe: "Well, I ceased that criticism several weeks ago, maybe a month ago, when it became clear from some of the indictments of the heads of the Oath Keepers and of the Proud Boys, moving up that chain that Nancy described, looking at not only the people on the ground level but those who were coming together to plot the attack on the Capitol. Because the Department of Justice was beginning to bring those indictments, I was beginning to feel I was being too impatient."
Retired Lieutenant General Michael Flynn, a minor character in the sixth hearing, who pleaded the fifth on the question of whether he believed in the peaceful transfer of power, belonged to another axis of power in the machinery of sedition. Imagine Flynn, a major conduit to the alt-right movement along with Republican operative Roger Stone, both of whom have turned to the Proud Boys and Oath Keepers for their security detail, both purveyors of impregnably stupid conspiracies around the election (some have even surmised that either Flynn or Stone is Q!), lit the flame. In Flynn's case, he testified before the commission — as any good seditionist should — that he could not affirm, against threat of self-incrimination, his belief in the peaceful transfer of power.
Braud: "You know, if we can take a step back from the legal or illegal issues just for a second. I spoke to a bunch of friends and associates after the hearings concluded, and asked what was their major takeaway, including some lawyers. One's major takeaway was the throwing of the plate against the wall with the ketchup dripping down the oval dining room, one was the grabbing of the clavicle of the secret service guy. My major takeaway is I'm watching this twenty-five-year-old woman, who seemed like quite a patriot, and with some courage she's showing apparently with threats to her well-being, and juxtaposing that with the [former] National Security Advisor to the President, the once-felonious-until-pardoned-General Michael Flynn, taking the 5th when he's asked if he believes in a peaceful transition of power."
"Larry Tribe, what will stay with you most from Day 6 of the hearings?"
Tribe: "Actually, that very last example was one of the most dramatic when Mike Flynn said that it might incriminate him criminally to say under oath that he believed in the transition of power peacefully. Because he doesn't. He's made it clear that he and a number of these other autocrats believe that democracy is simply window dressing. They really do not believe in the peaceful transition of power — and that comes to the very heart of what we are learning."
"A lot of people say that the difficulty of prosecuting Trump might be showing that he had the requisite intent, because being such an egomaniac, he must have perhaps believed he really won. Well, there are three things: There's only so much, you know, B.S. you can take about that. He almost certainly didn't believe he really won. Number two: even if he really believed he won, that's not an excuse to take the law into your own hands. You can say, 'I really believe the IRS owes me 11,780 dollars,' but that doesn't entitle you to break into Fort Knox to grab it on your own. And number three: even if in the end we don't succeed in indicting or prosecuting Trump, for whatever reason, if we go after him, here's where I agree so much with Nancy — it's great that pardons weren't given. If all the people immediately around him end up going to jail, the way that [Nixon's Counsel and Assistant to the President for Domestic Affairs] John Ehrlichman and [Nixon's White House Chief of Staff] H.R. Haldeman and all of those dudes did, then in the future, whether it's Trump or someone else, an autocrat in that situation will think 'I might be above the law, but I can't do it alone, and if all the people around me are gonna get hammered, I may not succeed in trying this.' So at least it'll be good if everyone around Trump is brought down, as well."
Trump is still tripling-down on the Big Lie that the election was rigged
The media, radical left Democrats, Antifa, and other subversive elements in the woodworks — though certainly not the chief conspirator himself — were to blame. A set of circumstances had arisen calculated to claim the winner as the loser, the loser as the winner, and everyone else in a vertiginous state resembling what former federal Judge J. Michael Luttig, in previous testimony, called "a revolution within a constitutional crisis."
Only a few days ago — July 22, 2022 — Trump, at a rally in Prescott, Arizona, went for the guttural. He lashed out at Biden and Pelosi. He double-and-tripled down on his claim that the 2020 presidential election was rigged. He claimed that a nursing home in Wisconsin was the hotbed of illegal shenanigans. He promised that doomsday was upon us. He said he had heard of even $9 gallons of gasoline. He griped about Afghanistan. He said the state of the economy under his administration was the best ever.
After recounting in detail Biden's record on criminal justice and claiming that a Trump-dominated Republican Party is for law and order, he stated that Democrats need to "leave the police alone." Rich, right? At the same time that the January 6th commission continues to highlight the brave work of Capitol police besieged by the former President's supporters, some dying by suicide, others with lasting physical and psychological damage, Trump continues to play footsie with democracy.
The gaul — and criminality — of Trump's rebuffing House Republican Leader Kevin McCarthy's plea to send in police and the armed forces so that certification could continue and calm brought back to the Capitol was on full display recently when Washington State Republican Rep. Jaime Herrera's description of a call with POTUS and McCarthy highlighted Trump's damning, callous indifference to the immediate threat posed by rioters.
During the insurrection, as he could see the mob beginning to storm the Capitol from his seat in the oval dining room with Fox news blaring in the background and video footage of his supporters calling for his VP's hanging, the former president downplayed the gravity of the moment. Instead of providing direct support by calling up the police, national guard, etc., as dictated by his oath of office, Trump instead decided to troll one of his most faithful supporters.
"[McCarthy] said, 'You have got to get on TV. You've got to get on Twitter. You've got to call these people off,'" Herrera Beutler recounted. "You know what the president said to him? This is as it's happening. He said, 'Well, Kevin, these aren't my people. These are, these are Antifa.'" McCarthy responded that they were indeed Trump's people and that his staff was running for cover, Herrera Beutler said.
"And the president's response to Kevin, to me, was chilling. He said, 'Well, Kevin, I guess they're more upset about the election theft than you are.'"
Trump's Prescott speech failed, of course, to leave out the fact that his plug for Kari Lake for Arizona Governor was a plea for whitewashing the horror of January 6th. Lake believes in the Big Lie. She's even willing to testify falsely on Trump's behalf against the Judeo-Christian injunction that "You shall not bear false witness against your neighbor," recorded in Exodus 20:19 and Deuteronomy 5:20.
And for a former president who continues to prattle on about a stolen election that never was, Trump's treachery on the 6th was reminiscent of his boastful claim at a Sioux Falls, Iowa, campaign stop on another winter's day five years earlier. In that first dogfight of a presidential caucus campaign, Saturday, January 23, 2016, Trump exclaimed that he "could stand in the middle of 5th Avenue and shoot somebody and [he] wouldn't lose voters."
In short, nothing could make his loyal followers budge from their faith. He was their messiah — and, they, his ever-faithful followers.
Trump's players are culpable, and there's no evidence that Trump is not
To those short-circuited by a propaganda train whose caboose is the Big Lie rumbling through small-town America, Tribe's and Gertner's liberal bonafides might be reason to tune them out. But the erosion of democratic values begins once Americans stop subscribing to the view that good faith constitutional deliberation is what upholds this sacred experiment in self-governance. Unfalsifiable theories — conspiratorial and fascist-friendly — will only speed up the transition towards a national legal order founded on newly minted autocratic principles. And if we know anything from the history of false messianic candidates like Trump, they thrive on antinomian, anti-legal adrenaline.
The accumulation of earlier testimony before the commission by some of Trump's most ardent supporters, including Arizona State House Speaker Buzz Bowers (recently censured by his Trumpist-dominated Arizona legislature for testifying before the commission), and Pence's lawyer Greg Jacob, seemed like appetizers compared to Hutchinson's ringside seat. With her testimony, we have learned so much more about Trump's conspiracy. The degree of detail she provided, Tribe and Gertner agreed, seemed to directly implicate the former president in a deadly plot.
With not a smidge of preening for cameras, Hutchinson weighed the option between duty to leader or country — and decided to go with the Constitution. She described to the commission in a resigned tone befitting a young woman heartbroken by what she considered Trump's betrayal of the rule of law, what the former president was doing in critical moments around the time of the coup. Viewers watched a former high-level aide in daily contact with the president and, with seemingly no ax to grind and death threats mounting, answer probing questions from the committee.
Her office in the chief of staff's suite, a mere five-to-ten seconds' stride down a narrow corridor of the West Wing to the Oval Office, would have put her in close contact with arguably the most powerful man in the world at the time. As she recounted a tale of perfidy by an outgoing commander-in-chief bent on distorting the law, there was also the ominous threat of witness tampering.
According to Vice Chairwoman Liz Cheney, an anonymous caller in June told Ms. Hutchinson that the former president "know[s] you have your deposition tomorrow. He wants me to let you know he's thinking about you. He knows you're loyal. And you're going to do the right thing when you go in for your deposition."
Broad, quoting Gertner's comment from a previous radio broadcast that "if you strike at a king, you must kill him" (vis-a-vis a potential prosecution of Trump), asked Tribe if he agreed with that statement.
Tribe's answer: "No, I don't. It's not clear that any jury will fail to have one person who hides the kind of loyalty to Trump or disbelief in democracy that might lead them to render a nullifying verdict of acquit, but even if he's ultimately set free because of a hung jury, it'll be like the impeachment. A lot of people said it would be terrible to impeach the president because the Senate might acquit, well, it did acquit, but I think for the purposes of history, he was impeached."
"I think, similarly, it would be better for Trump to be indicted and for there ultimately to be a hung jury than for the lesson to be 'you can try to bring down the government by violence, and you won't even be indicted.'"
Broad to Gertner: "Nancy, do you want to defend yourself for thirty seconds?"
Gertner: "What I was dealing with were the lessons of the Mueller Report. Right, Mueller aimed at Trump and pulled his punches, and did so because he believed the world was a different world, and a much more civilized world, and that others would take up the cause. After watching the January 6th hearings, and today, in particular, I believe that an indictment and even a conviction of Trump — well, certainly an indictment of Trump — follows sort of naturally from this. As I said before, the January 6th committee has been brilliant. It backed the DOJ into a corner here. It cannot be that these other players were culpable in the way they were and that Trump is not. I agree with Larry now. I believe Garland has no choice but to indict Trump. And the failure to indict Trump would be very troubling."
Like a movie whose plot twist ends with Merrick Garland, once a surefire candidate to sit on the Supreme Court, held up for nomination in the last year of Barack Obama's term of office by then-Senate Majority Leader Mitch McConnell, only to then see Obama's successor, Trump, appoint three reliable conservatives to the highest court in the land, Garland's role as Attorney General in determining if Trump should be indicted is ironic, if not fantastical, on its face.
Strange as this set of circumstances, Garland's fidelity to the law is his North Star. Whatever partisan wrangling rolls over the horizon as the January 6th commission retrieves more evidence of Trump's liability, I wouldn't count out the AG's razor-sharp constitutional understanding, burnished in Tribe's classroom, to set the tone for future criminal proceedings.
The potential of prosecuting Trump
While he continues to play his twisted game of RISK with a Constitution banished to Kamchatka, Trump scorns the old rule of law dictum that "no man is above the law." Still, the Constitution — and her defenders — fight back. With ragged determination, she offers tools designed by our founders to rebuff autocracy. While the ersatz counter-presidency of Mar a Lago continues to chug along, she hides the fruits of her labors. When she is damaged by a one-man wrecking crew that's always had too much but never enough, she reaches down into the heart of her principled faith. She criminalizes those who dare overthrow her basic norms. She calls forth her best minds — in Solomonic fashion — to tell the world that though she has been cursed, she will inevitably return to her former glory.
The Select Committee to Investigate the January 6th Attack on the U.S. Capitol — after completing its eighth hearing with former National Security Council Official Mathew Pottinger and former Trump White House deputy press secretary Sarah Matthews on July 21st — is set to reconvene in September.
Jason Reuven Kropsky
Jason Reuven Kropsky received his Ph.D. in Political Science from the Graduate Center of the City University of New York. In addition to his role as editor at The Daring, he has been published in Moveable Type, The Journal of Classical Judaism, and is an active member of the writers' community WordShedNYC. He lives in Seattle, Washington. Email scoops and pitches to jasonkropsky@gmail.com.