Welcome to the first of our brand new series, Spotlight, a monthly interview with a leading light from the world of visual storytelling. Every first Thursday, we'll publish a new Q&A here on The Daring. Today, for the first installment, our editor Ioana Friedman meets with documentary photographer Aileen Barney.
While growing up in the circus, Aileen Barney saw the ups and downs of life in the industry and was compelled to document it. Soon, she built an intimate body of work that saves its legacy.
When Aileen Barney started photographing circus performers, she "fell in love" with getting to know them, she tells me. We spend almost two hours talking over Zoom—she in her room, walls covered in art and photographs, I huddled among a stack of books at my desk.
The circus is in her blood. Her dad, Joe Barney, conceived and produced shows for the legendary Ringling Bros. and Barnum & Bailey Circus. "I want to carry on that legacy for him," Aileen says, adding that her dad learned the trade from his grandfather, Gene Barney. Gene's prolific circus career led him to appear in The Wizard of Oz as a trumpet player on the yellow brick road.
It's a heritage that lives strong within her. It propels her creative process. As she speaks, her eyes, sharp and blue, set deep beneath her brow, ascertain rather than question. The youngest of six children, Aileen grew up traveling the country by train, surrounded by her big family and circus performers from around the world. She absorbed it all and grew up faster than perhaps she wanted because circus life can be unforgiving.
But that hardship didn't stop her from going on to document the circus performers in her orbit, focusing more and more on her dad, Joe. She's made intimate photographs of his life on and off stage since she was in her teens, achieving, by now, a kind of everpresence. "I want him to have these images of how incredible and special his life was," she says. It's a fitting goal, considering her images show the depth of an artist that far exceeds glossy highs in the limelight.

The Daring: How have you found this whole experience, growing up in the circus?
Aileen Barney: We were always on the go. My dad ran the shows, and we traveled by a mile-long train. Everything was on a train, our living quarters, our food. We moved every three days to a new town, not knowing when we'd get off the train and enjoy a free day because when you're in the circus, you're pretty much working 365 days a year. On Thanksgiving, you're doing parades. On Christmas, you're doing a Christmas show. It's dream and fantasy out on stage, but it's a harsh reality behind the scenes. It made me grow up a lot faster than I wanted to.
TD: And you've talked about a counter to that too…what drew you in?
AB: Yeah, I always met fascinating characters, and there were so many languages to learn because Ringling brought in acts from across the world. I loved meeting new people. At ten, I fully wanted to indulge in circus life. I thought I wanted to do it for the rest of my life, and I started studying it.
So I followed in my dad's footsteps and watched what he did. My older brother [Alex Barney] also followed in my father's footsteps and I learned from him too. I'm the youngest of six, so a big family always surrounded me. Traveling with them was great, but also, there was a sense of, "When will we be home again?" I got a lot of anxiety from not knowing when I'd be home again.
TD: And how do you think travel changed your perspective?
AB: Going through rural towns and meeting people from fifty states was truly incredible, and it made me realize what was happening in the United States. At ten, I didn't understand it very much, but as I got into my teens, I started to realize what people are going through and how different people have different experiences.
Also, my father had a lot of responsibility on his hands, especially with kids running around. Seeing him take charge of the shows, brainstorm what the themes were going to be, and ensure that performers knew what to do, made me very to the point. Following in his footsteps, I like to take the creative lead in anything I do.
TD: When did you first start thinking about being creative? What were you making pictures of?
AB: I liked being backstage, talking with the performers, and seeing what they did on stage. I fell in love with getting to know them and with the idea of capturing their emotion and saving it. But I was nervous about photographing behind the scenes because I didn't know if they would like me to be in their space. At first, I was using a phone or an old camera my dad had, and it wasn't the best quality, but it still gave me insight into their lives and how they felt. When people first saw me around holding a camera, they would pose. They saw me as a kid and wanted to make me laugh…they wanted to do something silly for me to capture and remember. It was all fun and games, but not what I wanted.
As I got older, they knew I could understand more of what they were going through, their emotions. That's when the personal connection came in, from actually talking with them and knowing them for years, to the point where I felt comfortable photographing them. I started to realize photography was going to be a valuable tool when they stopped focusing on me to focus on whatever they were doing and I was there, behind the scenes, capturing that. That's what I wanted to see and document — the realness, their emotion when they were going out on stage to perform in front of thousands of people. That's how I want to reminisce the circus, the good part of it. I want to share it with people who aren't from this community who want to see what circus life is like.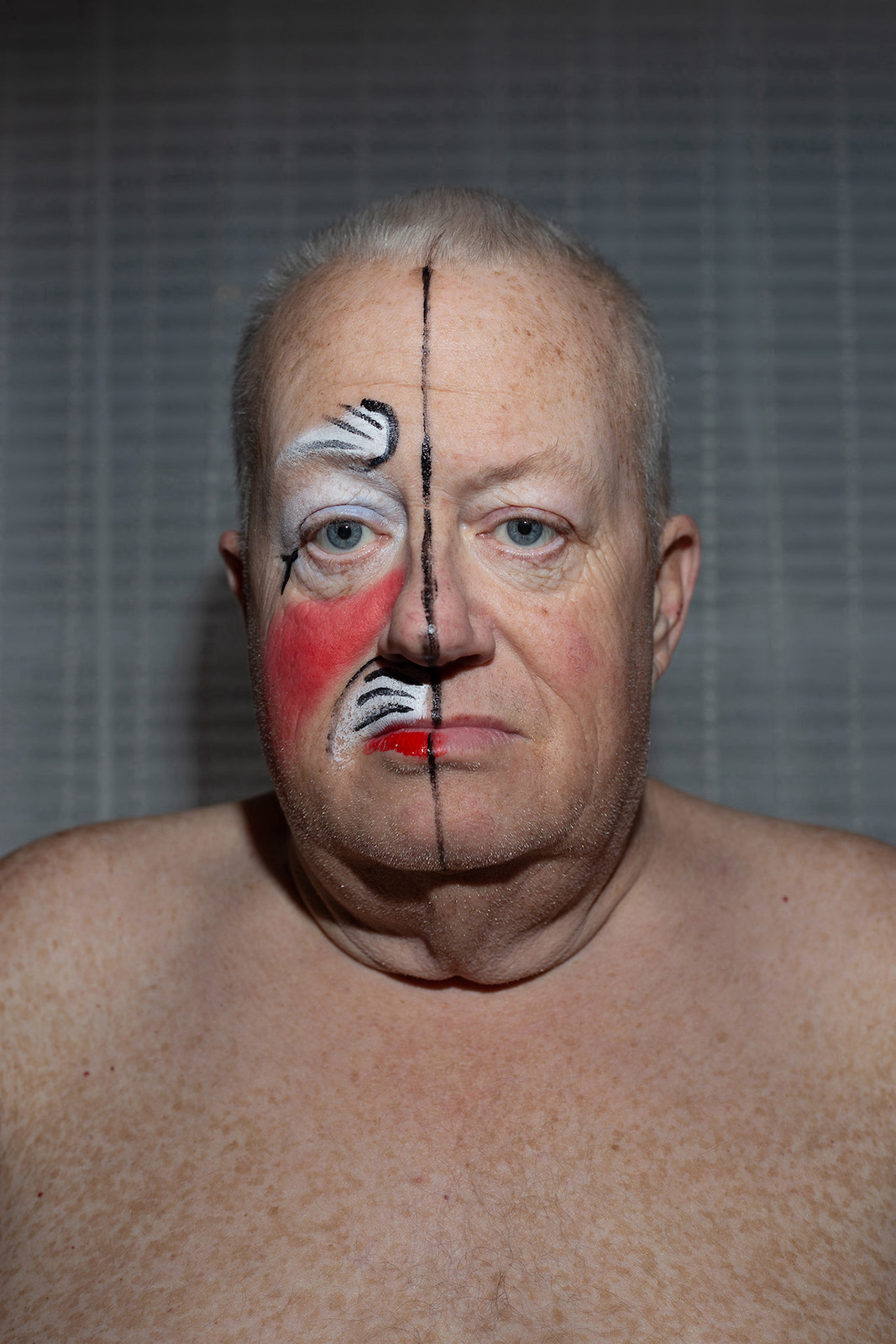 TD: Looking at your portraits, they feel theatrical yet up close and personal. How did this develop?
AB: I always loved portraits. I love the face and eye contact and feeling like you're in that moment with the person. That's so special to me, especially with my father. I want to feel like I am in that image with him, feeling the exact emotions he's feeling.
There's one portrait in particular, where the visual elements started to fall into place. In the image, my dad has half clown face and half real face with a black line down the middle. His eyes are veering right into the camera. It's very straightforward. The lighting is direct, right on his face. You can see his eyes clear as day and the blue of his eyes.
You can feel that he's not sure what he's doing, and he's uncertain about what's going on. That's the emotion he was feeling. And it's the emotion I was feeling too, because this is one of the first images I ever made of him like that. That's when it all started — that bright, direct lighting right on the face and getting that emotion.
Down the line, when I look back on this portrait, I'm going to feel everything I felt when I made it. And hopefully, the viewer is also relating to the feeling in the photo. The image is stunning and everything I want my work to be.
TD: And your dad was in character a lot. What was it like to photograph him after Ringling closed down?
AB: When the circus industry started to decline, my dad went into a depression. The circus had been his life. Anyone might've gone through the same thing. I know if that were my life, I would have spiraled a little. And so, at first, it was very hard. I didn't want to touch the subject. I didn't want to make him feel pressured and uncomfortable by photographing him. So I let it rest for a year.
But after that year, he became sick with Myasthenia Gravis, a disease where your muscles start deteriorating. And so I photographed him, documenting him in and out of the hospital and taking insulin every day. It became routine, and I wanted more volume to it.
TD: What a difficult time…where did that take you creatively?
AB: Come Christmas time, my dad goes out as Santa. He goes to hospitals, to Yale, and New Haven as Santa every year. Being Santa is his joy. Even though he was dealing with sickness and demons, he got ready to perform for the kids. I thought, "Yes, we're getting dad back!" It was a joy to see him come out of his shell to do something he loves. Photographing him just out of the hospital and photographing him as Santa, you could see how happy he became as that character.
It's crazy. Even though you're going into a character, that character can change your mindset. That happens with my dad a lot. He holds onto characters because it is a way of viewing the world through that character's perspective. When I photograph him as Santa, I see how he feels within that character and how that character brings him to life. Even more, he brings life to that character.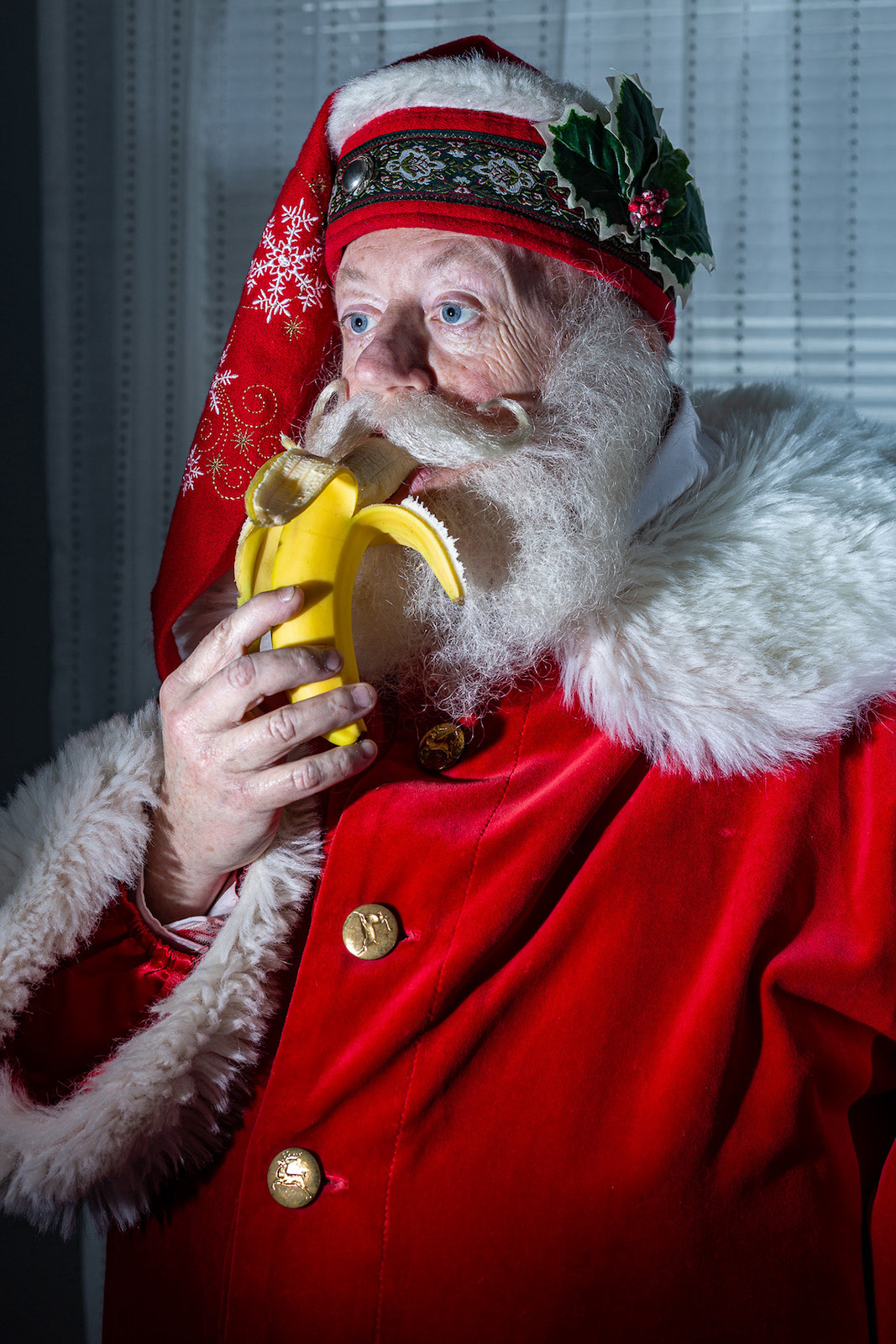 TD: Speaking of which…what's the story behind this iconic portrait of your dad as Santa eating a banana?
AB: My dad wanted new Santa headshots, so it was just something I was doing for his business. In the middle of it, he got lightheaded and started feeling woozy. My mom yelled, "Why aren't you taking care of yourself?" and it was a whirlwind of emotions. I left the room so they could hash it out, and he started eating Oreos straight out of a bag. My mom told him, "You can't be doing this. You need to eat something healthy." I wish I'd captured this on video because I would have loved to relive this moment every day of my life — she took a banana out of our kitchen and chucked it at him!
I knew it was about to get good! My dad just started eating the banana, and I told him he would get it all over his beard and get gross. I thought I'd photograph his beard after eating the banana…but I started photographing him while he was eating it. And it was so odd that he was just standing there eating a banana like it was nothing. I had never seen him eat a banana in my life, nor did I know he liked bananas, and he dressed as Santa eating a banana was just a whole different story. I didn't think these images would even be good because I laughed so loud and so hard. I don't even remember holding my lights.
I made this image by accident, and I'm glad. It's my favorite image I have ever made, probably because of the story behind it. Few people know the story, and looking at it, they think it's so strange. I'm glad we can share the love for it because it is odd. It was an odd day for us too.
TD: You and your dad are so close…have you ever been in a situation where photographing him was uncomfortable?
AB: Yeah, I have been in a couple of instances where people around us were uncomfortable. There's actually a funny story. I was at SVA in New York City, and in the middle of class, I got a text message from my mom that my dad was going into heart surgery because his heart was failing.
I immediately got on the train to Connecticut, about an hour and a half ride. I went straight from the train to the hospital, and got there just as my dad got out of surgery. I went in with full camera gear. I had my lights strapped onto me. The minute I walked into that hospital, I got death stares.
Up in his room, my dad was with a doctor and a nurse. I started photographing him. I tried not to use flash while nurses checked on him because that can be very distracting. I didn't photograph them because it wasn't my right to, and I didn't ask. I won't take photographs without someone's permission. So I was photographing him, but I could tell they were so uncomfortable. They probably thought that I wasn't concerned about my dad and that I was just there for the image. It gave me agita, and I asked myself, "Can I be doing this? Should I be doing this?" So yeah. I was very nervous.
But my dad and I understood that when I photograph, we connect. No one else needed to know about our connection. People could think it was crazy for all I cared. He and I and the eye contact were everything I needed to make sure he was okay being photographed at that time.
I was glad I made those photographs of him because it's a document of his life, and this is how I want to remember him. And for him to remember, if that ever becomes a thing where he can't remember what's happening. I want him to have these images of how incredible and special his life was.
TD: That's incredible. And you've enjoyed abundant creative support from your dad…where else do you go for inspiration and feedback?
AB: I look at Ringling archives of clowns and performers. That gives me a lot of inspiration; how beautiful some portraits are of performers back then. I want to keep that history alive. There's also a group I'm a part of, Ringling Brothers Clown Archives, and it's all clowns. People share old images they've come across. I love seeing them. And I love connecting with those people and talking about what we each see in the image.
My senior thesis teacher at SVA was Allen Frame, who's a wonderful photographer. Sharing my images with the same people every week was very supportive. I'd known a core group of them since freshman year, so they knew my work and my family, and what I was going after. Their feedback was valuable because they didn't always feel the emotion I aimed for with my photos. So, they helped me make better creative decisions and figure out what to change in the images to elicit the emotion or mood I was going after. Technically, that meant retouching parts I didn't initially want to retouch or reshooting with a different kind of lighting.
TD: And, ultimately…what do you want people to take away from your work?
AB: Many photographers have documented their families. But mine is unique. It's an inside view of the circus, which is a dying tradition.
It's the end of an era. There are only about four major circuses left within the United States. Compared to what it was ten years ago, it's drastic how much the circus industry has diminished. It's sad because if I have kids, they might never know what a circus is. I want the tradition to live on, even though we may not have an actual circus to go to.
We'll have these beautiful images to look back on. We'll have videos to look back on. There's so much more going on within a person behind the characters they play, and I'm carrying on that legacy through my work. Photographing my father is the biggest thing I've done yet. I'm hoping to start documenting my brother's life next.
TD: And you've stuck with this photo series since you were a teenager. Now, as you look back…what's a valuable lesson you've learned about your creative process?
AB: I want to be fully in a moment and photograph it how I see it, especially while photographing my father, who is such a huge character. Sometimes he wants to take control and make the image his, and I don't allow him to take over. I make the image as I see it. I catch him off guard, and I'm firm when he's got more of a pose going on. After the many years I've photographed him, he understands now just to be casual and go about everyday life.
So that's something I keep in mind when photographing people who might have a big personality — staying true to what I see and not letting that big personality overtake the image…and I stay true by being present and making that connection face to face, eyes to eyes.
---
This conversation has been edited and condensed for clarity.
Aileen Barney is a recent graduate of the School of Visual Arts. While at SVA, she photographed the triumphant highs of her father Joe Barney and his life in the circus industry. Her work has been published in F Stop Magazine and Visual Opinion multiple times. Barney's work has also been a part of the School of Visual Arts Mentor Show. She is a digital content producer for the Taunton Press. Find her on LinkedIn, Instagram, and Facebook.