Meet Nicholas Loffredo, whose self-portraits meld drag racing and queer ballroom cultures. Here, he talks about identity and what art can make possible.
Red Chipped Toolbox is, in its gutsy heart, a visual essay about a young gay artist coming into his own in a conservative New Jersey community. Born in Brick to an Italian American family steeped in drag racing culture, Nicholas Loffredo has been thinking about the layers of gender perceptions since childhood.
When Nicholas turned eight, his parents put a helmet on his head and strapped him down safely in a car his size, jumpstarting his run as a junior drag racer. "Crazy to let a kid get into a car and go like that," Nicholas glints and goes on to describe feeling a pull toward making art for years after he entered the raceway. He nurtured both sport and art for some time, and the tension between those life forces is striking in his images.
In one self-portrait, Nicholas captures the nuance of gender identity and its implications in ways that are organic to the world he's depicting. He's wearing a silver shirt and flawless eyeshadow, and a checkered racing flag frames the left side of the image. It's subtle and effective. His visual language consistently offers incisive juxtapositions, smart cultural observations, and so much promise for Nicholas' future work. Nicholas and I recently talked, on Zoom, about gender performance, his creative process, and what art can make possible.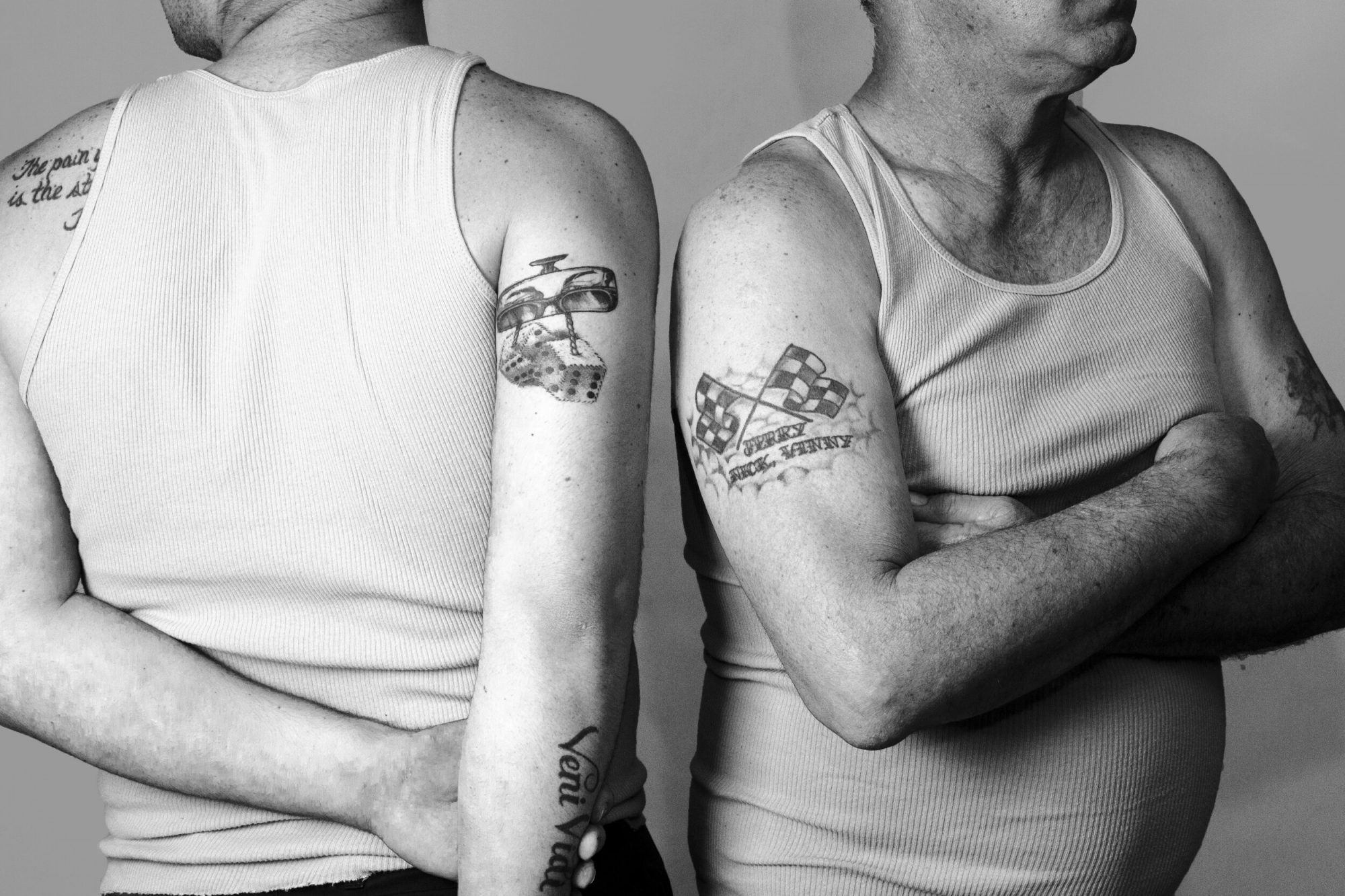 The Daring: There's a real elegance to Red Chipped Toolbox, particularly in how you balance telling a personal story with incisive social commentary about gender. What did it take to achieve that balance?
Nicholas Loffredo: Growing up, I was either at the racetrack or in autobody shops where my dad worked. The environment was very conservative. I always felt a little disconnected from it because I was interested in art. Before I came out, hearing people talk about life outside that bubble felt very disparaging for my being and what I wanted to do with my life.
So, my background and my upbringing within it inspired this series. I started thinking about the spaces that weren't comfortable for me — like the garage and the autobody shops — and thought about how I could deconstruct them to make something that does feel comfortable and where my identity and my family's interests can intersect. What happens if I bring these seemingly divergent elements together and make way for both realities to be present at once? The series is like a Venn diagram where the middle intersection can grow.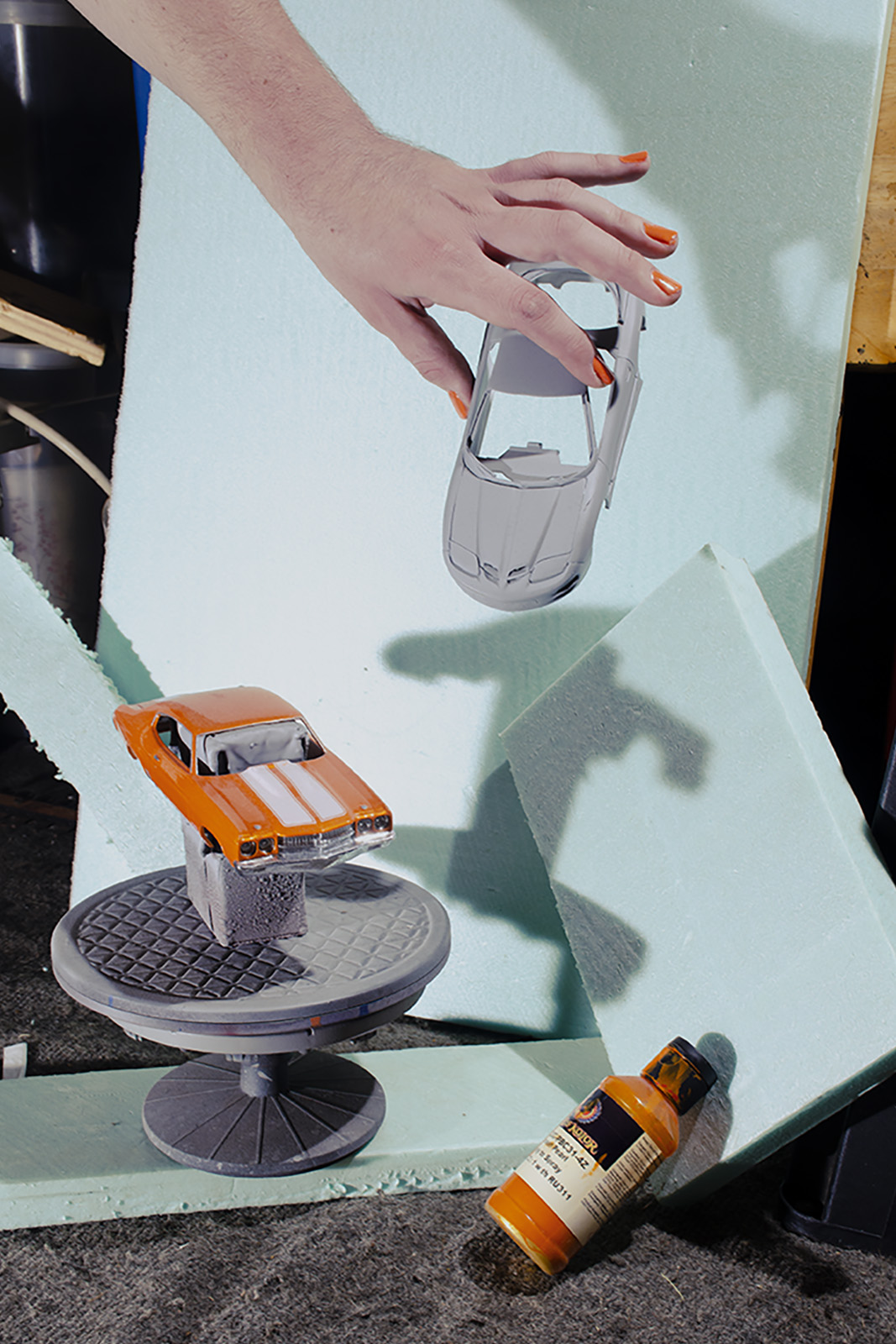 TD: What aspects of drag racing inform your photos?
NL: The physical performance piece got me thinking about esthetics as performance, too. As a racer, you rely on your racing suit and helmet, which have the same decals as your car. In the off-season, you do slot car racing, which is a scaled-down version. You bring in a mini model car, and it's very put together. It's all a presentation and a more universally accepted one because it's masculine.
I present as more feminine if I'm wearing makeup, and then I feel uncomfortable in the drag racing environment. Really, it's all performance and kind of the same thing. It's just that my form of expression is generally not going in a direction drivers want to go.
When you race, you're putting on a show, and you're in this community with like-minded people who support you. And in the queer ballroom scene, you have a category you compete in, and like-minded people are there supporting you, too. So, I'm pulling together these parallels. It's very therapeutic for me to find my place again within the drag racing world and photograph with my dad. We reconnected.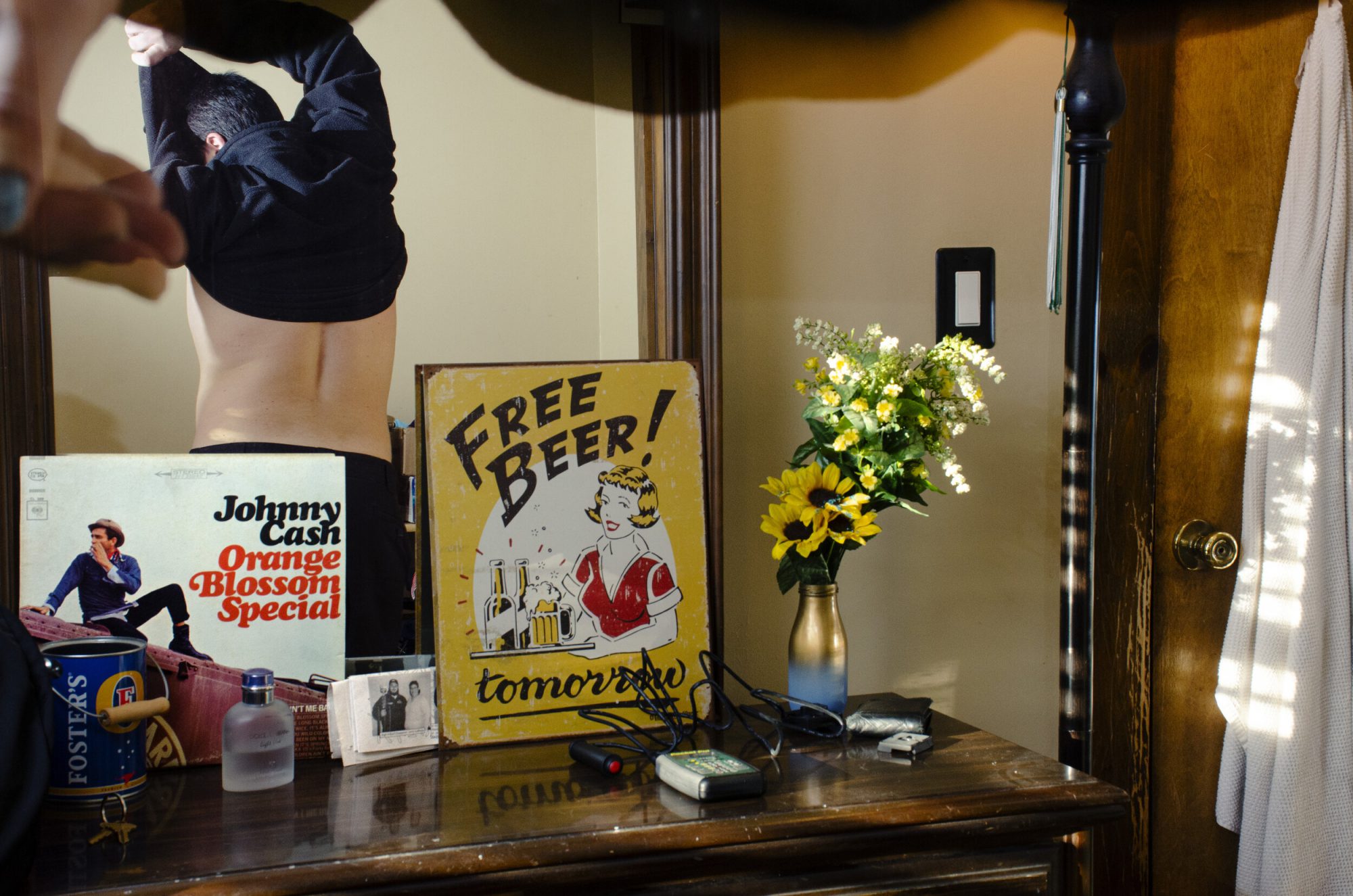 TD: What were your first steps in developing the story idea?
NL: I started diving into my father's photography archive from when he was 18-24. He grew up in New Jersey, so there are snapshots of him at the shore living this 1980s Jersey life. I noticed similarities in the spaces we occupied and even in the people we held around. And he was very fashionable.
He had this silver velvet shirt with a teal pattern going down and had these stylish jeans on with pointy shoes. He was always just very together. And I feel he cared a lot about his image because he was very muscular and lean. His cars, too, were silver and glistening because they were polished up. One was a vibrant green Camaro. The glamor in his life left me with questions to think about and create out of.
TD: We've talked before about how, in creating art, the most personal is the most universal. I actually see a lot of vulnerability in your work. What does it take for you to make yourself vulnerable as a photographer and a subject?
NL: I'm not erasing my upbringing. I'm letting the overwhelming masculinity present itself and allowing myself to show who I am and how my sexuality has evolved. In one photo, I'm wearing a red jockstrap and racing gloves. I'm tightening up the heel of the shoe with a hammer, a misuse of the tool. I want to offer visual layers through which people can enter.
I feel like if you're only giving the viewer a fraction of what you're trying to present, they're not going to be able to take a full step into it. So, I look into the camera as if it's the person or situation I'm thinking about. I look into it until I get to this point where I'm showing an emotion that's actually real. Sometimes, it's me blasting Amy Winehouse and just really feeling this moment, thinking about how to dive into the emotion even further.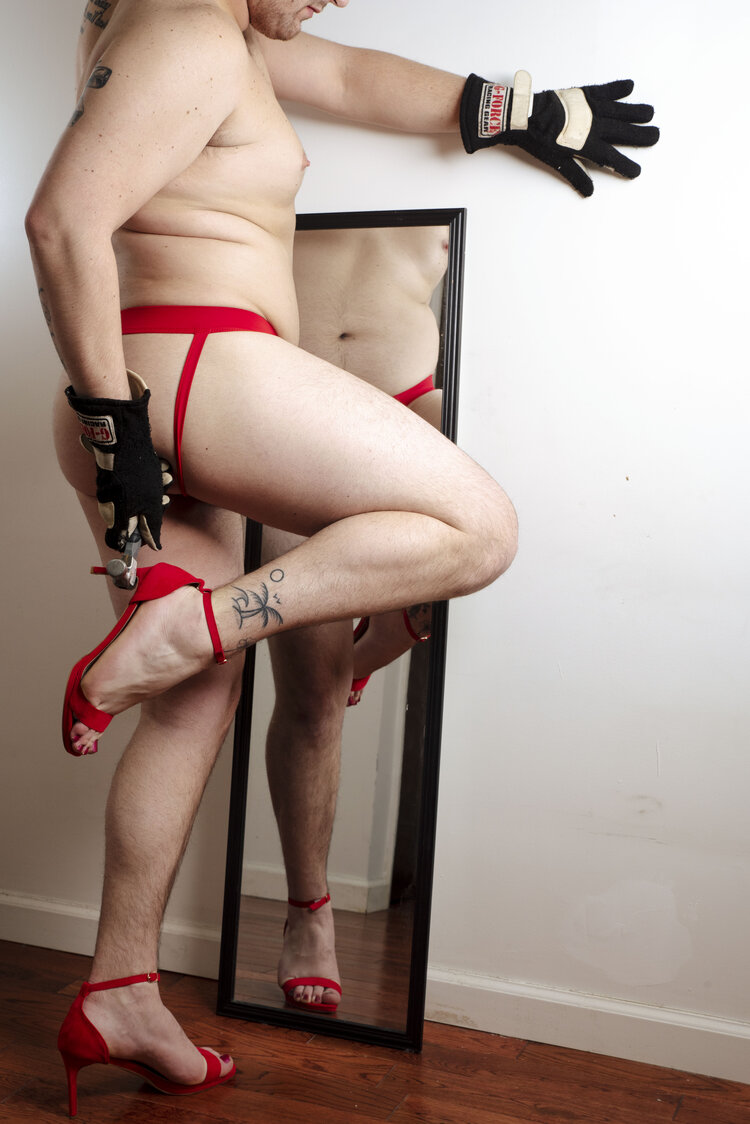 TD: What insight do you turn to again and again?
NL: I took a performance class with Patricia Voulgaris and started understanding how I could twist and turn my body to cause tension within a composition. What happens if an image feels stagnant and I pivot or throw my arm closer to the lens? What does that tension create?
In self-portraiture, my biggest pet peeve is when you can feel the tripod and that inertia of the camera. You feel the photographer's hand. So, when I set up a shot, I take the camera freehand to look at the space. Once I frame the image, I match the tripod to that. And when an object feels too forced, I throw it into the frame to let natural occurrences happen.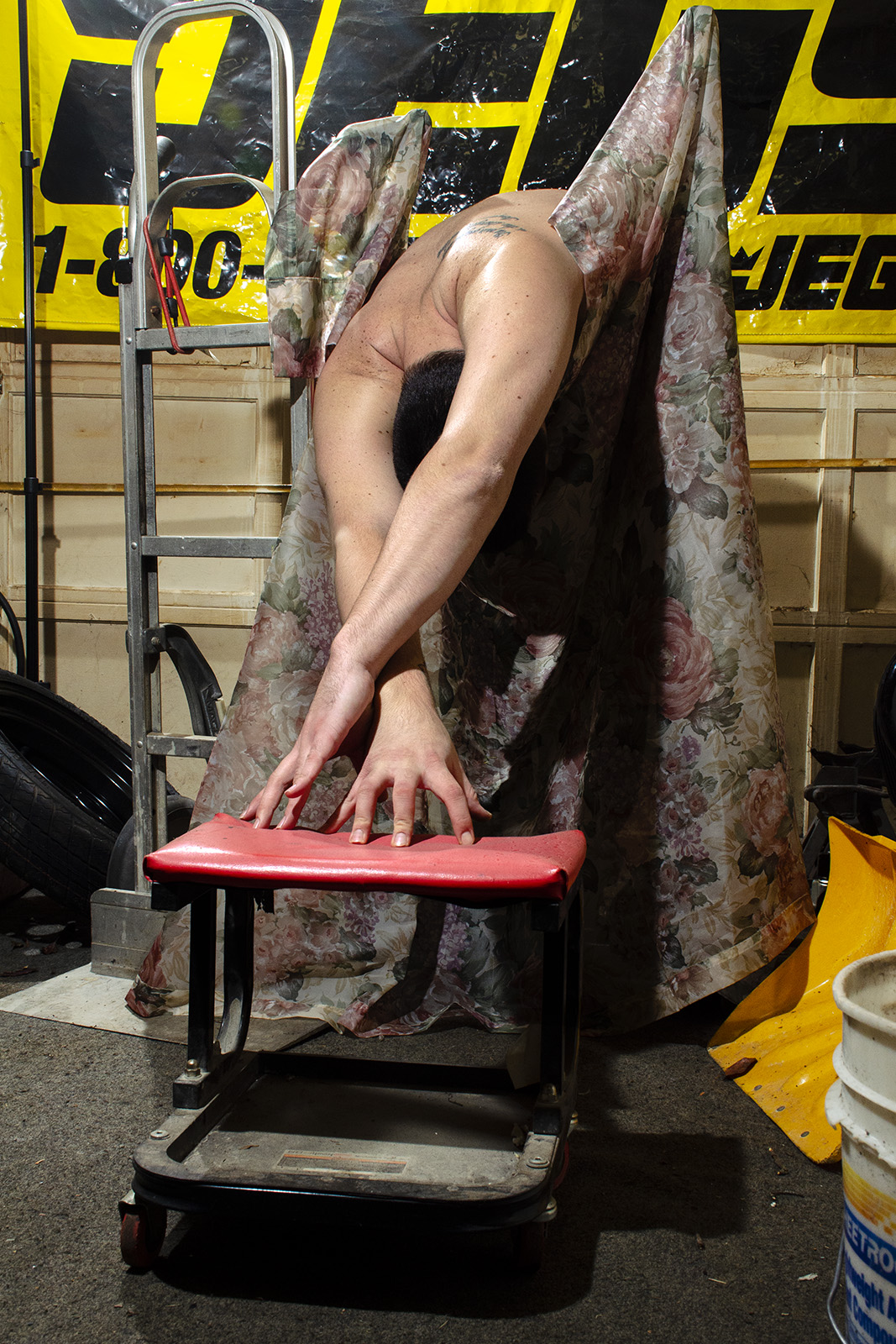 TD: Where do you want your photography to take you?
NL: I want to broaden the definition of queerness and of queer photography. Racing itself is an excluded subculture. And me, I'm a subculture within this subculture. So, I want to bring awareness to that and to the reality that LGBTQ people are not separate or boxed off from the rest of the world. We're multilayered.
Being a queer artist, people love to box in my work as just queer art. But no, I'm inclusive of a lot more. That's why I'm attuned to bringing all these aspects to the photos — from the masculine to the feminine. I hope someone who had a very masculine upbringing can see themselves in the photos and see that they don't need to shun their upbringing. They can look back and build a bridge to form a connection.
I think of making photos like a songwriter. Amy Winehouse takes something so personal…these lyrics are from heartache. And she somehow gets a whole crowd to scream along with her and have their catharsis. That's what I want to do with my practice. You don't have to be queer to get my work. You don't have to be a gay male. I want people to say, "Oh, we're complex humans, and our upbringing is a factor in that."
---
This conversation has been edited and condensed for clarity.
Nicholas Loffredo is an artist working in photography and video. He recently graduated from the School of Visual Arts in New York City, and he photographs subjects closest to him — himself, family, closest friends, lovers, and mentors to explore varied perspectives in everyday life. Visit nicholasloffredophoto.com.